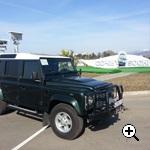 NPO Gorizont, LLCcompletes the development of a range of thermal imagers for application in the following products of its own design and manufacturing:
Mobile Patrol Complex "Patriot-Okapi",
Coastal Mobile Complex of water surface environment monitoring «Patriot- Okapi -Gals»,
Mobile Patrol Complex of video surveillance «Patriot-Okapi-Ortikon»,
Stationary Complex «Rapsodyia»,
Vessel Traffic Control System (VTCS),
Airfield control radar .
The unique character of the optical system is that it has a modular structure, i.e. the lens of required characteristics can be installed to the same electro-mechanical structural element.