| | |
| --- | --- |
| Nayada-34Ì | |
---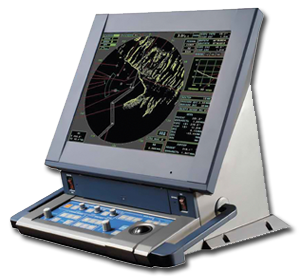 Navigational radar station "Nayada-34Ì" is designated for equipment of ships with gross tonnage above 10000 tonnes as the second NRS in conditions of mechanical and climatic exposure defined with "Rules of Russian maritime register of shipping" dated 2003, part V "Navigational equipment".

Meet requirements of IMO, IEC and Russian maritime register of shipping.

- wave length 3cm;
- diameter of antenna's rotation 3,0m;
- transmitter power 25kW;
- dimension of LCD display 23";
- range scales up to 96 miles.

Characteristics:
- Integrated trouble-shooting.
- Efficient interference protective means.
- Bright color image with high resolution on LCD display.

Display of ship's generalized information:
- geographical coordinates;
- course, speed;
- depth under keel;
- zone time.

- Scaling up of the selected area with its separate display in the additional display field.
- Image orientation to "HEAD-UP", "NORTH", "COURSE-UP", modes RM and TM with off-centering within 2/3 image radius.
- Measurement of targets coordinates:
VRM and EBL;
electronic ruler;
position mark.
- Automatic detection and audible alarm of targets in the guard zone.
- Trails of targets past positions and true motion with adjustable time of its duration.
- Autotracking of at least 50 targets with indication of its motion parameters and CPA with collision avoidance warning and safe passing trials maneuver (ARPA).
- ARPA output to electronic marine charts.
- Electronic chart and voyage data monitoring.
- Anchorage control.