| | |
| --- | --- |
| Integrated Bridge System | |
---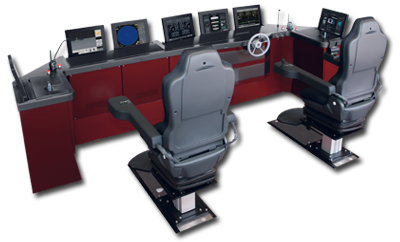 The bridge system can be adapted to the requirements of any type of river, sea or ocean vessel. If needed, the system can be equipped with additional workplaces and means of remote monitoring.

The present bridge's architecture consists of:

integrated control circuit of technical means;

integrated navigational circuit;

integrated communication circuit.

The open architecture of the bridge:

does not assume the exact division on particular function principle;

allows to build up and to modernize the integrated bridge system;

provides to the navigator with a possibility to use all instruments and controls necessary during piloting and maneuvering.

Navigational aids are designed for navigation assurance and improving of safe navigation of small , medium and large boats and vessels.

General technical characteristics:

Own ship generalized information image.

Interscanning accumulation.

Wide range of range scales.

Coordinates measurement by in-build features.

Auto detection in the guard zone.

Dangerous depth alarm and graphical image of depth profile upon echo sounder data.

Automatic radar plotting (ARPA), targets motion parameters indication and safe passing trial maneuver.

Detection and display on the screen the signals of the navigational radar beacons and radar responder beacons of the ship lifesaving appliances with overlay on radar image.

Past position and true motion tracks with adjustable time of its length.

Image and geographical information stabilization relative to the water or ground.