| | |
| --- | --- |
| Liman-18Ě1 | |
---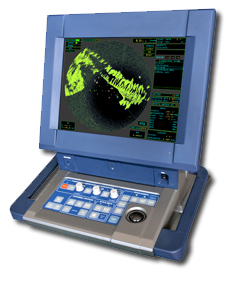 Navigational radar station "Liman-18Ě1" for equipment of ships with gross tonnage up to 1000 tonnes.

Meet requirements IMO, IEC and Russian maritime register of shipping.

- wave length 3cm;
- diameter of antenna's rotation 1,6m;
- transmitter power 4ĘW;
- dimension of LCD display 15''.
- range scales up to 48 miles.

Characteristics:

- Two-unit structure (for mains = 24V).
- Bright color image with high resolution and contrast on LCD display, effective diameter of radar image 210mm.

Display of ship's generalized information: - geographical coordinates;
- course, speed;
- depth under keel;
- zone time.
- Interscanning accumulation.
- Image orientation to "HEAD-UP", "NORTH", "COURSE-UP"; modes RM and TM.
- Range scales in nautical miles.

Measurement of targets coordinates:
- VRM & EBL;
- electronic ruler;
- position mark.
- Automatic detection and audible alarm of targets in the guard zone.
- Trails of targets past positions and true motion with adjustable time of its duration.
- Autotracking of at least 30 targets with indication of their motion parameters and safe passing trials maneuver (ARPA).
- ARPA output to ECS.
- Image and graphic data stabilization relative to the ground and water.
- Integrated trouble-shooting.
- Indicator built-in to the ship's control unit (on request).