| | |
| --- | --- |
| Shipboard chairs | |
---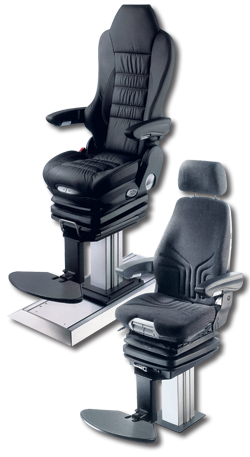 High quality, multi-functional and highly comfortable pilot chairs from manufacturer. The chairs are specially designed for ensuring of safe, comfortable and healthy sitting of the operator working for a long time. Chairs of Cleemann chair-systems are the most preferable solution of the operator's sitting for whom are important:
- Natural working conditions;
- Comfort;
- Functionality;
- Unlimited access to any controls either of the chair itself or of the ship.

Deck rails:
The additional comfort is provided with the deck rails, which ensure free moving of the chair along the deck being safely fixed while sitting.

Safety:
It is possible to supply chairs with special safety belts either standard or professional four pointed safety belts specially designed for high speed vehicles.

Comfort:
Special shock-absorbing systems of the chair ensure compensation for pitches and vibrations arising during ship's motion. Operator can stay in those chairs during many hours without any lassitude.

Chair systems of Cleemann chair-systems meet all safety and quality requirements of the international standards:
- IMO HSC.
- Germanischer Lloyd (GL).
- Det Norske Veritas (DNV).
- DIN 5510 fire protection standard.
- DIN EN ISO 9001 quality assurance.